Get the latest news at the Sailor Musical Facebook Page:
https://www.facebook.com/SailorMusical/
SAILOR - a new musical drama in development for stage and screen
By Georg Kajanus, Barbie Wilde and Roberto Trippini
From an Original Story by Georg Kajanus
Lyrics and Music by Georg Kajanus
Synopsis
SAILOR is a tale of love lost and love resurgent, of post-war intrigue fed by wartime high adventure. In the Mediterranean port city of Marseille between 1944 and 1946, there are accounts to be settled, wounds too raw to heal and a life blighted by a great love cut short
Johnny Carbone (AKA "Sailor") is a disgraced, former undercover US Naval officer. Johnny hunts down anyone he suspects might have betrayed his French Resistance lover, Madeleine, to the Nazis -- back in the violent summer of 1944, when the Allied landings in the south of France (known as "Operation Dragoon") sparked off a mass insurrection against the hated Nazi occupiers.
A local legend, both feared and admired, Johnny haunts Marseille's Red Light District, but doesn't sample any of its delights. How could he, with a hole in his heart and guilt rattling around in his head?
Other than his friend Jean-Pierre (the former head of police in Marseille), who feeds him information about suspected collaborators, Johnny's only ally is Rosita, a tough temptress with a soft centre who carries a torch for Johnny. Rosita runs L'Orchidée, Marseille's so-called "Premier House of Vaudeville and Burlesque", whose dancing girls are renowned throughout the US Navy for the extras they provide. L'Orchidée was also the Mouvements Unis de la Résistance's (AKA the MUR, the local French Resistance) headquarters during the war.
Unaware of L'Orchidée's less savory activities, young, fresh-faced Annette barges in asking for a job as a dancer, to the amusement of Rosita and to the irritation of L'Orchidée's "Diva-in-Residence", Big Bamboo, and her devoted Yummy Girls.
And what a superb dancer Annette proves to be, but her real aim, she confides to Rosita, is to find a certain American -- the man she holds responsible for the death of her sister, Madeleine, during the war.
When Johnny and Annette find themselves face to face, secrets are unlocked, old passions are reborn and new passions are unleashed. But in a war-scarred city, where Corsican crime lord Raffaele Piramallo seeks to retain his iron grip, nothing is going to be easy, or simple, or fair.
Background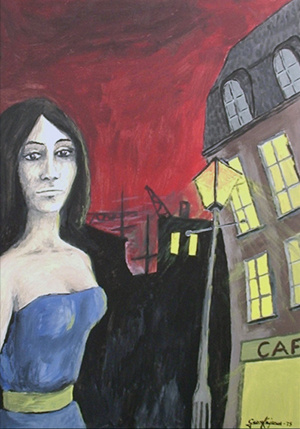 (A painting by GK of Sailor's Night on the Town, the first song Kajanus wrote for the Red Light Review.)

Over thirty years ago, Sailor began as a romantic drama in the mind of composer and writer Georg Kajanus. His passion for the romance of the sea and the seedy Red Light Districts of Europe had culminated in a bittersweet musical about two people searching for love in the ruins of post-War Marseille. Although Kajanus had written the music, lyrics and book for the musical – then titled The Red Light Review – in the end, it never saw the light of day at that time. Instead, Kajanus chose to form a uniquely theatrical pop music group with Phil Pickett, Henry Marsh and Grant Serpell, which he called Sailor.

Sailor subsequently released five albums in the 1970s and two in the early 1990s, many of which contained songs from his musical. In 1976, A Glass Of Champagne rose to the top of the pop charts in England and throughout Europe, and still has a presence today on radio and in films, TV commercials and covers. Girls Girls Girls also achieved Top Ten status in the UK and across Europe, and has remained a radio and nightclub standard ever since. In total, Kajanus' compositions for Sailor have gone to the top of the European charts 28 times in the 1970s and the 1990s, as well as in 2008.
Kajanus has collaborated with actress-writer Barbie Wilde and

stage-screenwriter Roberto Trippini

on a new Sailor Musical, based on his original story of The Red Light Review, which subsequently became the group Sailor in the 1970s. The musical contains many original Sailor songs, along with new material written by Kajanus, and is being developed for stage and screen
.
The Nickelodeon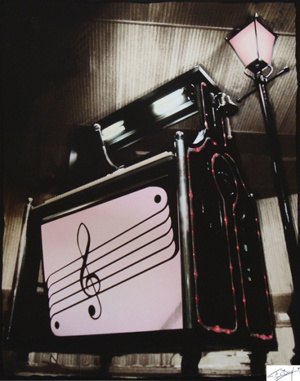 T
he Nickelodeon, whose inventive mechanics produced the trademark sound for Sailor the group and Sailor the musical, was designed and built by Kajanus initially out of necessity: to enable two of the four Sailor musicians to simultaneously play the equivalent of six instruments between them to recreate the sound of Kajanus' original demos for The Red Light Review.
"It's extremely unlikely you've ever heard anything quite like SAILOR before in your life, because they are, quite simply, unique. An over-worked word, that . . . but you can apply it to SAILOR, not only for their repertoire, with its echoes of waterfronts, bars and bordellos, but to the sounds they use to colour the stories they tell. That monstrous machine on stage is the Nickelodeon — a custom-built bank of keyboards played by two musicians and something you won't hear from any other band."
- 1975 Tour Program of Steve Harley + Cockney Rebel with Sailor
The Writers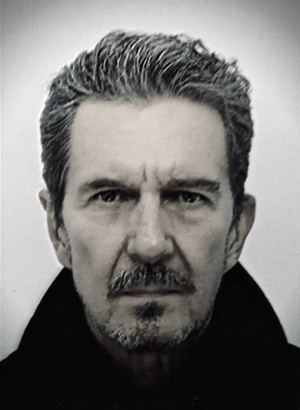 Composer, lyricist and writer Georg Kajanus is best known for being the lead singer, 12-string guitar player and songwriter for the group, Sailor.
Born in Trondheim, Norway, Kajanus moved with his mother and sister to Paris at the age of thirteen. It was there that he studied music and the classical guitar, as well as attending the Cité Universitaire's flying school. The family then relocated to Canada where Kajanus became involved in the North American folk music scene. After a yearlong journey through the Middle East and Europe, Kajanus moved to London, where he formed the folk-rock group, Eclection. They released one album, entitled Eclection, which featured eight Kajanus compositions, on Elektra Records.
Five years later, Kajanus used his youthful experiences of the colorful night life of Paris to invent Sailor. Under Kajanus' leadership, Sailor was awarded numerous gold and silver records for its success in Europe and Australia in the 1970s. Kajanus' singles and albums for Sailor achieved Top Ten and Top Twenty chart status throughout Europe and the UK; the most successful being the Kajanus-penned singles A Glass of Champagne and Girls Girls Girls.
Kajanus left Sailor to experiment with electronic music in the 1980s with his new creation, DATA, whose three albums achieved cult status in nightclubs throughout the USA and Europe. After a painting sojourn in Mexico, Kajanus reformed Sailor in 1990 and the band went on to achieve further chart success in Europe with the singles The Secretary and La Cumbia. Sailor released two albums, both composed by Kajanus, in the 1990s: Sailor and Street Lamp, and the group also toured Europe extensively.
In the mid-1990s, Kajanus left Sailor again to form the poetic-techno duo Noir with Tim Dry. Four different versions of Noir's single Walking were used in the UK Channel 4 TV series, Feast, an avant-garde culinary program. Feast was also hosted by Noir and they wrote the theme music for the series.
Kajanus composed music for the soundtracks for two documentaries directed by German filmmaker Monika Treut: Didn't Do It For Love (1997) and the award-winning Gendernauts (1999), as well as the music and sound effects for the British TV series, The Kid (1986), with Henry Marsh. His composition, A Glass of Champagne, has featured in Walerian Borowczyk's La Marge (1976), Julien Temple's award-winning documentary, The Filth and the Fury (2000) and Oliver Hirschbiegel's award-winning drama, Five Minutes of Heaven (2009). A Glass of Champagne has also been covered many times, the most prominent being the 2008 cover by German mega-techno band Scooter, as the title track of their UK Number 1 album, Jumping All Over The World.
Kajanus is also working on the classical musical, People Industry, which is an unusual look at the world of Homo Sapiens.
Barbie Wilde was born in Canada and educated in the USA and England. As an actress, she has appeared as the Female Cenobite in Clive Barker's classic horror movie Hellbound: Hellraiser II, as a vicious mugger in Death Wish III; as a robotic dancer in the Bollywood blockbuster, Janbazz; and as a drummer for an electronica band in the so-called "Holy Grail of unfinished and unreleased 80's horror" Grizzly II: The Predator, AKA Grizzly II: The Concert, which featured early appearances from George Clooney, Charlie Sheen and Laura Dern. After 37 years in the making, the now re-titled Grizzly II: Revenge will be released on VOD and DVD in January 2021.
In the early 1980's, Barbie performed in New York, London and Amsterdam with the mime-dance-music group, SHOCK: supporting such artists as Gary Numan, Ultravox, Depeche Mode and Adam & the Ants.
As a television presenter and writer, Barbie helmed The American Hot 100 for Skytrax TV; The Morning Show and Supersonic for Music Box TV; The Small Screen for ITV; Hold Tight for Granada; and The Gig for LWT. She also presented the film history show Sprockets, which is still shown on Sky TV.
In 2009-2019, Wilde contributed short stories to 14 different horror or crime anthologies and publications. In 2012, Comet Press published Wilde's debut diary-of-a-serial killer novel, The Venus Complex, prompting America's best-selling horror magazine Fangoria to call her "one of the finest purveyors of erotically charged horror fiction around". The Venus Complex was released as an audio book in autumn 2018, narrated by Hellraiser's Doug "Pinhead" Bradley.
Wilde's illustrated collection of short horror stories, Voices of the Damned, published by SST Publications in 2015, was called "sensual in its brutality" and "a delight for the darker senses" in a starred review from Publishers Weekly. Each of the eleven stories is introduced by a full color artwork and-or illustration created by some of the most imaginative artists in the genre: Clive Barker, Nick Percival, Steve McGinnis, Daniele Serra, Eric Gross, Tara Bush, Vincent Sammy & Ben Baldwin. Voices of the Damned was nominated for the Best Horror Story Collection Award by This is Horror, 2015.
Wilde is now collaborating as co-producer and co-screenplay writer with ex-Fangoria Editor-in-Chief and director Chris Alexander (Blood for Irina, Queen of Blood, Female Werewolf, Blood Dynasty, Space Vampire) on the feature length horror movie, Blue Eyes, based on her short story of the same name.
Roberto Trippini is a multilingual writer born in Italy, educated in the US, and based in London since 1994. After seeing his first stage plays (Bad Samaritans Go Places, Botero Forever, etc.) produced on the London fringe, he wrote the libretto for the musical Jack Dagger showcased at Greenwich theatre by Musical Futures 2004.
His first feature, the British indie romcom Are Your Ready for Love? (co-writer) was premièred at the 2006 Cannes Film Festival and won the Best Screenplay Award at the Monaco International Film Festival.
This was followed by the short film Road to Damascus (2007) starring Nick Moran. His next work as librettist and lyricist was the musical drama Too Close to the Sun at the Comedy Theatre in 2009 (music by John Robinson and Conor Mitchell) and the political musical Roll On The Day (music by Laurence Mark Wythe) at the Etcetera Theatre in March-April 2012. Co-writer of two full-length stage pieces performed at the Scoop at More London: I'm A Londoner (2010) and Citiest of Cities (2011)
Latest productions as librettist and screenwriter are the historical musical drama Soviet Zion (October 2014, showcased at the Jewish Museum and the Lost Theatre) and the short film Such A Handsome Devil, selected by the 2015 Cannes Film Festival. In 2017 and 2018 four short theatre plays of his have been produced: Under a Different Sun and Narcomambo Safe & Sound at the Old Red Lion, Marzipan the Android Kitten at The Space Theatre, and Red Top Maggot Mob Reloaded at the Tabard. He is presently working on the libretto of a comic opera about Asperger's syndrome, based on a 2009 travel book by Debra Schiman.
*
(Keep Off The Streets At Night and Sailor's Night on the Town paintings by Georg Kajanus.)